Someone You Should Know

This year, the Human Resources Department is enjoying our time out in buildings getting to know the many dedicated professionals that make up our District 33 team. While we were visiting the buildings, the idea came to us to share some of the stories of our veteran staff who have made District 33 their home for many years. The decades have brought many challenges and hearing the reasons why the staff has chosen to stay renews our belief that West Chicago Elementary School District 33 truly is a magical place to be.

Each month we will highlight a staff member in a new feature called SOMEONE YOU SHOULD KNOW.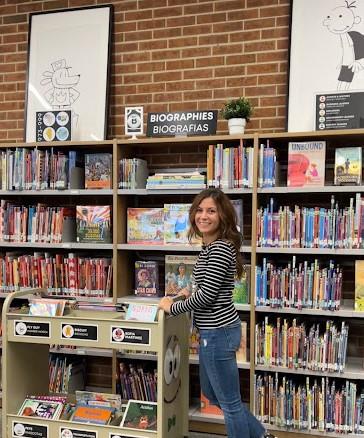 Phone:
Email:
Degrees and Certifications:
Tori Farquhar

You don't have to look far in D33 to see the "hidden" talents displayed throughout our buildings. Whether it be an artifact or the delivery of an idea, we are blessed with individuals who amaze us with their creativity and talent. We recently learned of the artistic talents of one of our staff members on a recent visit to Turner Elementary School. Tori Farquhar is in her third year working for D33. She was hired in the fall of 2021 as the part-time library aide at Turner. The following year, the library aide position became available at Pioneer, and Tori offered to become full-time, splitting her time between the two buildings. Like a lot of our staff, Tori grew up in West Chicago and attended both Pioneer and LMS. In addition to her, several of her family members, including her parents, attended D33 schools. Now, as a parent, Tori gets to watch her own two children share in that D33 experience. Tori has a daughter in 4th grade at Turner and a son who is a 6th grader at LMS.

When asked who her greatest mentor has been, she states, "I have always had tremendous support from my whole family. My children and husband are always rooting for me. I'm so fortunate to have great relationships with my parents, and they've always encouraged me in all my endeavors. I've also worked with some pretty amazing individuals at both schools. I'm inspired daily by the way they interact and engage with the students, and everyone is very supportive of one another."

This may be a reason why Tori chose D33 as a place to work. She shared, "When I started part-time, it was a great opportunity to be more involved in my kid's school and be in an environment that I love, but it's evolved to so much more than that. It's incredibly rewarding to interact with the students every day, and I see it as an opportunity to invest in my community. Libraries hold a VERY special place in my heart. When I had my son, I was a stay-at-home mom, and our public library became like a second home. I was blown away by the resources, activities, and programs available to families. I had been to the library a few times as a kid but definitely wasn't aware of all that it offered to the community. Those special library trips with my children cultivated a love for reading for us all. My hope is to create that same experience for the students who walk through the door, whether they're a reader or not. Being an aide allows me to work alongside two very gifted & passionate librarians whom I greatly admire and respect." When asked what she values the most about working in D33, she points out the strong sense of community we have in D33. Tori emphasizes, "I genuinely feel like I've entered a great big family, and I look forward to coming to work every day." When asked if she recommends D33 as a place to work, she responded, "I have had an overwhelmingly positive experience working for the district, and the devotion the staff has for the students is evident in their teaching. It's a great team to be a part of."

Tori's hopes and dreams for her students include receiving an excellent education and that they leave this building every day knowing that they are loved and valued for exactly who they are. Tori adds that her students should feel that their school is a space where students feel safe to learn, make mistakes, and hopefully have fun in the process! She commented, "I think we all know the lasting impact an educator can have on our lives. So if they can walk into their future careers & relationships with an incredible sense of self-worth, I think they'll be set up for success."

If you ever have a chance to visit the Turner Library, be on the lookout for some of Tori's fantastic artwork. Take the time to talk with her about the current project that she and Jenny Totman have designed to contribute to their philosophy for connecting our students to the library and fostering a love for reading. Tori's artwork is incredible; we've witnessed this firsthand. She has Miss Garcia, her Pioneer art teacher, to thank for encouraging her early on. She had always been drawing as a young child, and Miss Garcia always encouraged her, which made her feel comfortable. Commenting on her connection with art and where she may continue to use this talent, Tori shared, "I've always thought about becoming an Art Teacher or a children's book illustrator. It's something I've thought about."

In closing, Tori reflected on her current work as a Library Aide in sharing, "It's been great to work with Jenny Totman and Joelle Nelson. From the moment we started working together, we clicked instantly. We share the same philosophy - I feel welcome because they value my input. I feel fortunate to have the opportunity to work with them. These past few years, I have always loved interacting with students. It can be emotionally taxing, but seeing our kids each day and being a little part of their education each day, I've built some great bonds with these kids. This encourages me to think, "What would that look like if I became a teacher?"

"I've learned that people will forget what you said, people will forget what you did, but people will never forget how you made them feel." - Maya Angelou.

Tori referenced this quote as she contemplated further her thoughts about becoming a teacher. It is comforting to know that an individual with such a great spirit and kind soul is considering a future in the teaching profession. Our students deserve nothing less. And this is why Tori Farquhar is Someone You Should Know.

(Tori's artwork is hanging on the wall above the bookshelves in the photo)
June 2023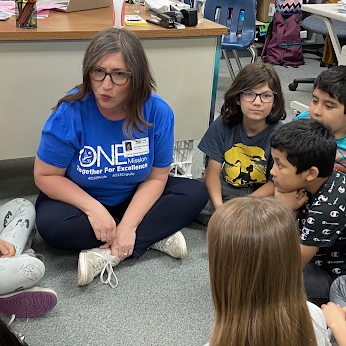 Phone:
Email:
Degrees and Certifications:
Ms.

Jen Szwaya

After teaching for six years in Oak Park, and ten years in Bensenville, Jennifer Szwaya joined District 33 in 2020. During the 2020 and 2021 school years, she served as an instructional coach at Currier. Then, while at a conference, Jen was approached by a publisher after presenting her work focused on teaching Shakespeare to 3rd through 8th graders at a conference. The publisher, Prufrock Press / Taylor Francis Group, invited her to turn this work into a book. Jen then took a leave of absence to complete this work during the 2022 – 2023 school year. She is now excited about returning to District 33 as the lead GATE teacher.

Jen has only worked at Currier, while also popping her head into the preschool buildings when administering language screeners. She is excited, as the lead GATE teacher, to soon be spending time supporting and learning from colleagues across the entire district.

When asked about her mentors in the District, Jen reflected, "When I came to District 33 I was lucky enough to be mentored and supported by the entire Currier team, by all of the instructional coaching team, and by my coaching partner Melinda Johnson, who never made me feel less than for not knowing something! Throughout my career, though, my greatest mentors and supporters over the years have been my students. When working with students, I always let them evaluate my teaching around report card times. Their feedback has been instrumental in shaping my classroom practice. And, in the past several months alone, I have had coffee with 14 former students who are now college freshmen, sophomores in high school, or middle schoolers. Maintaining relationships so that I get to see the seeds of my efforts bloom within them gives me the support I need to keep striving as an educator." What a great testament to Jen's teaching and mentorship over the years!

When we asked Jen why she chose to remain in District 33, she replied, "There are two reasons why I knew that after I finished writing my book Shakespeare Amazes that I would definitely be returning to District 33. One is loyalty! Since I was a small child I imagined being an author, and now, because of the trust extended to me by the board of education, I was able to take leave in order to seize the opportunity presented to me to make the dream a reality. The second reason is not fit for printing, but I'd be happy to tell you in person! It involved a conversation I once had with a person who did not believe that gifted learners existed outside of certain communities. I am dedicated to proving that person wrong."

And when Jen describes what she values the most about our school community, she shares, "What I value most about District 33 is the sense of community that exists within our buildings and across our teams. I've spent time in several different districts and, based on my experience, District 33 is full of the most friendly, funny, welcoming, and non-judgmental people I have had the pleasure of working with. A year ago, in April, I got to see how deep the kindness of the District 33 community runs when I suddenly lost my younger brother to a drug overdose. I felt Currier and the entire D33 family's love and support. District 33 is a place that honors our humanity. For that reason, it is a place worth investing time and effort in."

And when asked if she would recommend D33 as a place to work, Jen confirmed, "District 33 is an exceptional place to grow and learn because it is a safe place in which to make mistakes. We simply can not grow without falling on our faces, and I'm glad to be able to grow in an environment where someone reaches out to help me up when I struggle."

In closing, Jen shared her dream for our students, "My dream for our students is that they have teachers who feel lit up inside about the work they get to do each day. Passionate, effective teachers, who believe in the magic they have to make kids' lives better are a life-changing force. "

We are thankful for Jen Szwaya's expertise and devotion to our students and our community. She is definitely someone you should know!
April 2023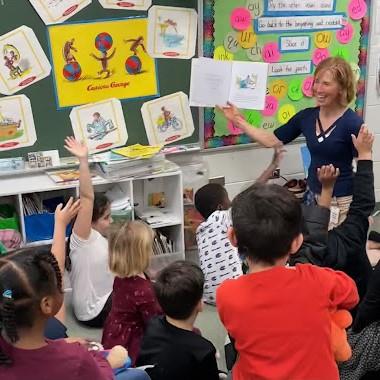 Phone:
Email:
Degrees and Certifications:
Karen Laukaitis

In 1990, Karen Laukaitis was hired to teach in the Primary Learning Disabilities classroom at Gary School. This year signals another long-time professional who chose to remain committed to West Chicago for her entire career. 33 years in District 33. In that year of 1990, all kids in our district with the learning disability label on their IEP were bused to Gary to attend the primary or intermediate room. The sign above her classroom door read "Learning Disabilities Room." Karen reflected that "It's hard to understand how no one thought that there was anything wrong with that at the time. The philosophy was that kids with special needs needed to be in a separate classroom to get their needs met."

During this time, the district began piloting an experimental program at Turner School called Inclusion. The goal was to include all students with disabilities in their home school in the general education setting with modifications and supports.

Karen reflects on how proud she is to be in a district willing to take on this challenge long before surrounding districts were considering it and despite the enormous pushback. She commented, "It was such a complete reversal in educational philosophy that it was hard for people to understand. Long before Trauma Informed Training, District 33 knew it was what is right for kids and persisted. It's something that I'm still most proud of today. It's also one of the underlying reasons why I stayed. I was in a district that is committed to all children despite their differences. It never occurred to me to leave." Within three years, the goal of the inclusion program was fully realized, and Karen transitioned to general education first grade at Gary and later moved to first grade at Wegner where she is currently a proud Eagle.

When asked about a mentor in D33, Karen identified Ed Leman, the principal at Gary School and for whom Leman Middle School is named, as a tremendous support. She described Ed, "He was my coach from the sidelines in those early years when every day was challenging. He encouraged me to trust my instincts, not fear taking risks, and continue my education. Also, Susan Grissom, the speech and language pathologist at Gary, was a wonderful mentor to me long before our formal mentor program existed. She took me under her wing and invited me to her home in the evenings to help with planning. At the time, she was pregnant and keeping an eye on her toddler while cooking dinner. Talk about dedication!"

Karen encourages new teachers to come to District 33 where they'll be supported by a great mentor program, provided with numerous training opportunities, and encouraged to continue their education, all while receiving a strong salary and benefits package. She also emphasizes, "They'll also become a part of a special team of people who are dedicated to what they do and who are so often willing to go the extra mile to help just as Ed and Susan did for me."

When asked what her hopes and dreams are for her students, Karen ended her interview with, "I sincerely hope that my students and their families feel how deeply loved and cared for they are. I want them all to feel fully included in our classroom and school community. I hope they'll be able to look back as adults and say that they received the skills they needed to pursue their dreams and have happy memories of their time here."

And with those words of encouragement, dedication, and appreciation for her opportunities, we are inspired to share Karen's story because she is SOMEONE YOU SHOULD KNOW in D33! Thank you Karen for all that you do for our students and for your colleagues. It is a bittersweet announcement to congratulate you on your 33 years of service to our school community. We will greatly miss you!
March 2023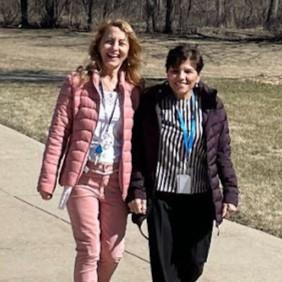 Phone:
Email:
Degrees and Certifications:
Anna Leuer & Soona Farag

We met up with a dynamic duo over at Currier Elementary School recently. Soona Farag is a paraprofessional who began her career in D33 over 25 years ago, in 1998. Her colleague, Anna Leuer, began her career in D33 over 30 years ago, in 1993! Both of them have worked at Currier for the past 25 years, with Anna having started at Pioneer as her home base while she traveled to five other schools as an ESL Teacher. After her first year, she moved to the newly built Currier School and continued to travel to other schools until 1998, when she became a 5th-grade teacher and also met her colleague Soona. Anna recalls the reason she was moved to Currier was that all of the children of the Fermi Lab families were enrolled at Currier, so her work as an ESL teacher took a focus there in that building.

If you ever visit the Currier gymnasium, you will see the many national flags hanging on the walls. These flags represent the countries of the newcomers and the Fermi families. Soona and Anna recall the amazing activities of International Day. Anna organized the day to provide food for the students as well as welcome other ethnic foods, which gave the students a "taste" of the other countries represented at Currier. Soona made her famous Baklava from her native Egypt as well as some delicious lentil soup.

As they recalled their important mentors who helped them along the way, Soona named Anna Leuer and Beth Goettsch. She describes them both as patient and friendly. Soona recalls a memory of first meeting Anna, "When I came to Currier, Anna was the person who always introduced herself to the new people and asked 'how can I help you?' She was always there for you. And whenever we had the same lunch, we would walk together. It was good therapy. Time to talk and support each other."

Anna recalls her mentor, Pam Nelson, a first-grade teacher. "She allowed me to observe her teaching. I saw a lot of "whole language" centered around thematic units. She was so calm and kind with a sweet, soft voice. Differentiation of instruction was a hallmark of her teaching."

When asked for the reasons why they chose to stay in D33, Soona was quick to share that "Currier is my second home. I love everybody here. They have my heart. They always welcome people and are there when you need them." Anna added that when she moved to West Chicago, she became very involved. She volunteered for local access TV - channel 17 news - and developed/reported on several news coverage topics. She states, "I feel that I love this community because of the people in our community and for our forest preserve. I love the history of West Chicago and I love the people - the families. I have been invited many times to family dinners and quinceañeras and I think that because I live and shop in this area, I enjoy seeing a lot of my students too."

When ask what they value most about working in D33, Soona shared, "There is a lot of diversity of cultures here. The district cares about all of our families. We have different people from different nationalities and the district cares about all of them. They offer a lot of services for our families that I don't see in other school districts." Anna's thoughts turned to the early years of the school district sharing, "When I was first hired, the district was starting the inclusion program. It was a progressive movement and I feel that our district has always welcomed innovation - dual language programs - GATE - to meet the needs of our students."

When asked if and why they would recommend D33 to others, Soona shared, "They will experience a lot about different cultures. When I came here, I learned a lot. We have hard-working families who have taught me a lot." Anna added, "I feel, especially here at Currier, our school is situated in a forest preserve, which is a classroom in and of itself. I've always found opportunities to get professional development through the district. I've participated in several committees. New teachers should know that if they are motivated and you devote the time, they have so many opportunities to learn and grow through the district PD offerings and committee work. You can bring back this knowledge to your classroom. It's a good practical experience."

When thinking of a dream they have for their students, Soona shares, "I hope that all of my students look to continue their education after high school - at least for two years." And Anna shared, "Come back into the community. I have several students who are children of my past students. It's nice that families stay and raise their children in our community. I want my students to give back to the community and be useful. I want them to believe that West Chicago is a place that will always welcome them. It's our home - together."

We can't think of a more powerful connection than learning and growing together in the profession as colleagues and friends. It is bittersweet that we congratulate both Soona and Anna on their retirements at the end of this school year. They both leave very, big shoes to fill, and their impact on the West Chicago community will continue to remind us of their legacy of developing a caring and welcoming community of learners at Currier Elementary School. And for a few more months, you can catch them on a brisk, lunchtime walk around their favorite forest preserve! Soona and Anna are definitely "someone" you should know!
February 2023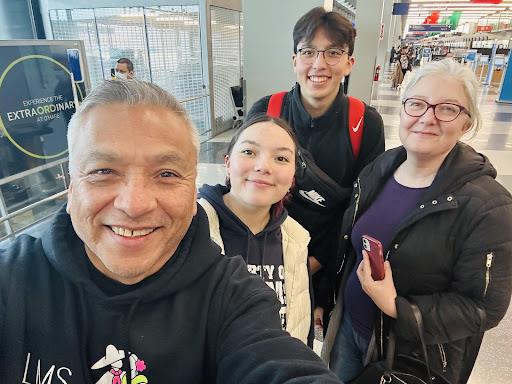 Phone:
Email:
Degrees and Certifications:
Mr.

Sal Tamayo

Sal Tamayo is a 30-year veteran of District 33, however, this was not his first career. Sal graduated with a degree in Mass Communication from the Universidad del Tepeyac in Mexico City and was producing TV programs in Mexico when he decided to make the move to the U.S. At this time it was difficult to find a job in his field, so he went on to complete his Master's Degree in Education from Columbia University in Chicago, as well as, a second degree in Mass Communication. He worked several jobs to get through school. In 1993 he was hired as a teaching assistant at West Chicago Middle School, (now Leman Middle School), for a short time before moving to Turner Elementary to work for Dr. Auer, as a bilingual teacher. His classroom consisted of students in the 4th, 5th, and 6th grades. And after 30 years in education, Sal is not hesitant to say that he is not even thinking about retirement. He loves his work in District 33 and cherishes his time with the students and their families!

Even though Sal has worked at all levels, he enjoys working with middle school students the most. He credits Liz Perez, a former social studies teacher at LMS, as his greatest mentor. He explained that when he was new to education, he learned so much from her through her example and watching her work with kids. He describes her as "very strict, but she knew how to work with her students and their parents." He described her genuine care for her students and their success. When there were issues, she would go directly to their parents and that was something that Sal admired. Sal shared, "I think the relationship with parents and making connections with her students was the most important thing about her work." Sal referenced Greg Mortenson's book, "Three Cups of Tea" as a similar source of inspiration for what makes his experience special in District 33 He shared that his students and their parents become like family. Sal shared that it is just like in the book when that 3rd cup of tea means you are accepted - that you belong here. And a proud realization for Sal is the fact that he has many god daughters and god sons. He recalls the numerous invitations that he receives from families to events such as graduations and quinceañeras.

When asked why he decided to remain in West Chicago 33 and make a career here, without hesitation he affirmed the community. Sal shared, "When I came to West Chicago, the bilingual program was in the back corner. I saw the needs of the kids. I saw the needs of the parents. I started asking questions and then I could see the needs of the community. After I met my wife at Turner, I decided to stay in the community. It's home for me now. My kids went through the West Chicago school system. It's definitely the people too. You have to fall in love with the community you stay in. Even if you don't live here, you have to get to know the people who live here. Spend more time with them. You have to relate to the people here. And when you do, that grows on you. That's why I stayed." Sal's most cherished moments are when his students come back to share their experiences with him. He likes catching up with what they are doing in their lives.

When asked what he values most about working in D33, Sal shared, "Whatever opportunity or idea I had to help the community, I received total support from the school district." He also shares his love for soccer and being able to coach young soccer athletes as an important part of his mentorship here. Having coached future State Soccer Champions is something that is a definite highlight on his resume. And if you didn't believe his commitment to the soccer program here, he confirmed that if he were ever to win the lottery, he would donate the money to build a state-of-the-art soccer field for the Leman athletic program!

When asked what he would say to other teachers who may be thinking about West Chicago for a career, he shared, "We need you. We really need you! The only thing is that it is a lot harder these days. If you can survive the pressure of dealing with all the behind-the-scenes work, you can do it. Get involved with the kids. I always tell my students, when they go to high school, to get involved with something. I think the same is true for new teachers. If you get involved with school activities, you will appreciate the community and the kids a lot more. They will see you after school. They will see that you enjoy what they do and that you are comfortable with their families. Let them get to know you somehow."

As a final thought, we asked Sal what he dreamed of for his students. He shared that he would tell them, "Do what you enjoy doing. Become a good citizen and a good person so that you can give back to your family and your community. It doesn't have to be a lot. You worked hard through all of this - now share it!" Teacher, Coach, and Parent, Salvador Tamayo, we thank you for all you do for our kids and our school community. And we thank you for your many years of service and dedication to the students and families of our school district. You are definitely someone we should know!
February 2023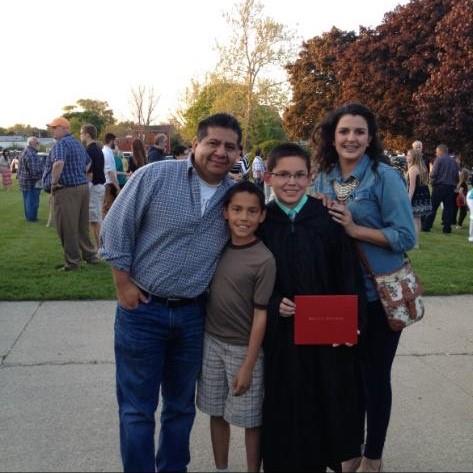 Phone:
Email:
Degrees and Certifications:
Mr.

Francisco Jimenez

When asked when he first started working in D33, Pancho not only knew the year, but he also knew the exact date - June 8, 1998. Being a veteran of D33 for 25 years qualifies him to have a unique perspective on what it means to work and thrive in our great school district.

It was back in 1998, after talking to a friend who was working at West Chicago Middle School (Leman Middle School) as a custodian, Pancho applied and was hired for his first D33 job at Gary and Turner Elementary Schools. And in 1999 he first met Fred Cadena, our current Director of Buildings and Grounds, who at the time was the Head Custodian at Currier Elementary School. Pancho was then offered the night custodian position at Currier and their partnership and friendship of 25 years began to grow.

Soon Pancho was promoted to Head Custodian at Currier, where he proudly served from 2001 until 2015. During that year, Fred was promoted to Director, and Pancho was promoted to Facility Engineer. This was a time when Pancho reflects on who his greatest mentor in D33 was and it is no surprise that he names Fred Cadena as the person who helped him grow into his current role in D33. Pancho recalls that Fred pushed him to grow and pursue his career goals. He describes Fred as supportive in everything that he did. Pancho respects Fred for the many skills that he has and his ability to mentor those around him. But he stresses that Fred is all about safety too - making sure that the work is completed safely and that our school buildings are safe for our students and staff.

In addition to mentorship on the job, Pancho points to his friendship with Fred and the advice he has given him from a personal perspective. Their mutual respect is a strength that isn't always evident in work environments. And through the years, their partnership has ensured that the work they do is of the highest level of quality and safety to best serve the West Chicago Elementary School Community. Pancho commented, "You can find a lot of friends out there, but they might not always be there for you. I know one thing…if something happens, I know I can count on Fred." Pancho added, "Fred says, Don't ever give up, keep trying and you can do it." And it is with this advice from his mentor and friend that Pancho closed with, "I don't give up easily, I need to figure out how to do something, and 80% of what needs to get done we figure it out together. No matter what time you call Fred, he will always answer his phone. I never worry." And that is the perfect example of the high level of dedication and commitment that Pancho and his team have while they serve our school community. Pancho also names former Currier Principal Vicki Sanillo and Dr. Leman as leaders who cared for him, helped him understand their work together, and encouraged Pancho to learn and grow in his job. He is very thankful for their support.

Pancho now has a team that reports to him and he takes his role very seriously. He knows that it is his responsibility to help teach them the skills they need to thrive and grow as committed members of the D33 team. He stresses to them that they need to be responsible, be on time, and take initiative. "Don't ever say there's nothing to do in this district, there is always something to do and to learn." And using his time wisely is something that Pancho takes pride in. He is always learning something new. He is taking classes at the College of Dupage to learn more about the safety initiatives that our district is implementing. And with the many new air conditioning units being installed in the upcoming years, Pancho has his work cut out for him. But in the end, knowing that our staff will be more comfortable with a good running system to cool our buildings gives Pancho a high level of satisfaction in the work that he leads.

Pancho describes D33 when he states, "I feel it's a good environment and there's always room to grow for us. There are career advancement opportunities and if you want to, you can do it." He also shared, "I would recommend anyone to come work here because the district is bilingual and we need a lot of bilingual staff to help support our programs. There is a good environment here and I feel that every morning when I wake up I think about work and that I enjoy what I do. Even on the weekends, I am here and no matter what time it is, I will come and help.

When asked about the future, Pancho plans to (eventually)retire and split his time between here and Mexico. Even in retirement, Pancho sees himself working part-time to help out the district which helped him grow and learn to love his work. As a matter of fact, his work became a family endeavor when both of his sons sought work in D33 and worked alongside their father. His younger son currently works in the evenings and is pursuing coursework during the day. His older son will be graduating from the University of Illinois this year with a degree in Electrical Engineering. Pancho's stepdaughter is pursuing a degree in Social Work. Pancho takes great pride in their accomplishments and we are confident he has meant a lot to each of them as he has supported and guided them toward starting their careers.

Father, friend, mentor, colleague, and lifelong D33 employee. Francisco "Pancho" Jimenez, we are fortunate to work with you and celebrate you as "Someone You Should Know" who makes D33 a great place to work and serve.
January 2023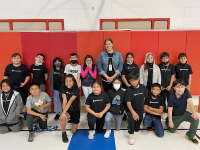 Phone:
Email:
Degrees and Certifications:
Mrs.

Courtney Daily

This month we were intrigued by an individual we met during curriculum night at Pioneer Elementary School. Mrs. Courtney Daily began her teaching career in District 33 17 years ago and has never looked back. She started as an instructional aide at Turner School for a few weeks and then moved to Pioneer as a dual language teacher. At the time the D33 program was a transitional bilingual program, and the model has changed quite a bit since then. Courtney really enjoys the fact that we honor our students' native languages and engage them in both of their languages, rather than transitioning them solely to English. She recognizes the great benefits for her students to maintain their native language, both in terms of academic growth and cultural pride.

Courtney did not grow up with two languages. She hails from Naperville, a former student of the Indian Prairie SD 204 schools, where language classes were taught, but there was no dual language program for her to experience. She credits her high school Spanish teachers at Waubonsie Valley High School with giving her a solid foundation in the Spanish language. She describes them as teachers with a very high standard for learning, but an equally high level of support for her to grow and learn a second language. Courtney only took a semester of Spanish in college, which further validates the quality experience she received while still a high school student at Waubonsie Valley.

While Courtney grew up in Naperville, her heart is truly in West Chicago, where she prefers to give back to the school community as a teacher. Courtney shared, "I love working with our students because they know right away if we care about them. Working with this group of students is special and unique, and I really like that we honor both their culture and language. We are striving for more equitable practices, which is such a big part of making meaningful changes in our society." When asked who inspired her to become a better teacher and to remain dedicated to West Chicago, without hesitation, she shared her two mentors, Doris Stroebel and Tori Moyski. They worked together as a team for 7 years and Courtney learned many great skills as they modeled their passion for teaching. Courtney describes her mentors as professionals who strived to get better every day at their craft. She observed them creating meaningful connections with the families of their students. She observed them as always humble and striving to improve themselves as teachers. She credits these experiences as a large reason she wanted to become a stronger teacher herself. Courtney shared, "They were so inspirational. They always wanted to make things engaging for our students, and had such a positive attitude about learning and growing their skills to best support our diverse learners." So it was no surprise that when we asked Courtney why she had chosen to remain in West Chicago that she pointed to these two mentors as a major influence in her decision. She also added that the support of her colleagues and the way they bounce ideas off each other is something really special about Pioneer. "We have always been able to come together and play to our strengths to support each other, '' Courtney shared.

When asked what she values most about working in D33, Courtney did not hesitate to point to her principal of 13 years, Gloria Trejo. "She was such a supportive principal. She always encouraged us and pointed to our successes, while helping us to set attainable and measurable goals. Similarly, she would always remind us when we were being too hard on ourselves. She is really great with students and their families and was able to balance all of the input well. She was also a great listener and problem solver." And it is that compassion and guidance that Gloria showed Courtney that helped her frame her vision for her students. Courtney shared, "My biggest dream for my students is that they find their passion and contribute to the world in positive ways. We used to always say college was the only desired path, but I want them to grow into careers that they are passionate about, whatever that looks like for them. I just spoke with a mom during conferences about her work in the factory, and she said her biggest dream is that her daughter finds a job where she doesn't have to work herself to death. I completely respect that, whether her daughter goes to college, a technical school, or another form of advanced training. I want my kids to end up in careers that they really care about. I always try to remind them that school gives you more opportunities. More choices than our parents ever had."

Courtney lives in Glen Ellyn with her husband and 6 ½-year-old twin boys who are following their mother's path by attending the only dual language program in the Glen Ellyn schools. "It's been really cool to share that experience with them. We love to come to West Chicago and we practice our Spanish together and go on adventures that are diverse and educational. It's been amazing to share that part of my own life with them." Truly a teacher who "walks the walk" and we couldn't be prouder to call Mrs. Courtney Daily, a colleague and "someone you should know".