Restorative Circles and Active Talking
Currier approached planning for this school year with tremendous joy and anticipation. Despite the challenges from which we have emerged and the still unknown challenges, we were simply excited to bring our students back. We know our children and their families are the heartbeat of West Chicago. Their energy and enthusiasm remain the true indicator of the bright future that lies ahead.
Currier staff was very aware of the anxiety and trauma felt by many of our students as they returned to school and took time to reflect on our students' social-emotional wellness. We decided that coping skills and restorative measures would be prioritized for our Currier Community. And this includes our teachers too! We feel we have a world-class faculty and staff who stand ready to support our kids and each other.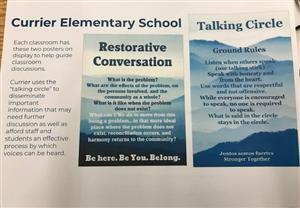 In response, Currier has implemented Restorative Circles and Active Talking to its programming in all classrooms, thus providing our students the opportunity to develop skills that will help them now and later on in life. Each teacher has employed a consistent approach to this skill development as we all learn the value of remaining "curious," not "furious" when challenges arise. This program has given us a chance for calm and resilience as we face the challenges ahead. And as our young scholars develop the skills to become advocates for their learning, we know that increasing their level of student agency will put them at the top of their class in the years to come.
Currier thanks the District Administration and School Board for working together toward the common goal of developing our hope for the future of our students!