Return to Headlines
D33 Welcomes New Director of Student Services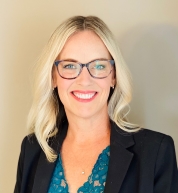 District 33 is excited to welcome Kimberly Hanson as the new Director of Student Services beginning on July 1st. Due to the timing of this vacancy and the timing of our next Board meeting, Kimberly will be presented to the Board on July 16th for Board approval.
Kimberly began her career in education over 20 years ago after earning her Bachelor's degree from Northern Illinois University with a major in Elementary Education and a minor in English. Shortly after, she earned a graduate assistantship and received her Master's degree in Special Education with an emphasis on Blindness and Visual Impairments also from NIU. After several years in the classroom, Kimberly earned a second Master's degree from Lewis University in Leadership and Administration in 2005 and her Director of Special Education endorsement in 2018 from the University of St. Francis.
Kimberly spent her early teaching days as a special education teacher before obtaining her first administrative position with the Kendall County Special Education Cooperative. Administratively, she has served as a special education coordinator, assistant principal of student services, and special education director before being appointed to Director of Student Services in West Chicago District 33. In her previous district, Kimberly was charged with leading a transition to the full implementation of the special education continuum of services (Pre-K through grade 8), earning recognition from ISBE's principal consultant Sue Taylor who stated Kimberly's "communication and collaboration are outstanding." With a consistent focus on improving student access to the core curriculum, implementing a Tier 1 social-emotional learning curriculum, and developing a resource/support network for families of students with special needs, Kimberly effectively demonstrated her commitment to serving the needs of the whole child. In addition to her role as Director Special Education, Wisinski also served as the district's Grant Coordinator for the Consolidated District Plan, IDEA Part B Flow Through & Preschool Grants, the Preschool For All Grant, and ESSA Title I, II, and IV Grants.
Kimberly is married with 4 children, Cady (27), Jake (26), Ava (18) and Luke (17) and enjoys traveling with her husband, reading, and spending time with her 15 year old Yorkshire Terrier named Coco.
Ms. Hanson is replacing Ms. Suzanne Nissen who resigned at the end of the school year to accept an executive role in another district.
Ms. Hanson went through a thorough interview process which was comprised of three rounds of interviews involving parents, staff and buildings and district administration. We are very fortunate to have had very strong candidates interview for this position.